Ideas built into hidden parts. That is Muraki's technological expertise.
Our Precision Components Division started as a dealer of precision devices for clocks and watches. Taking advantage of its extensive experience and achievements, the Division now primarily provides precision parts and units, such as HDDs and optical component-related products, to the IT industry, as well as to major manufacturers representing Japan, including aerospace and industrial equipment.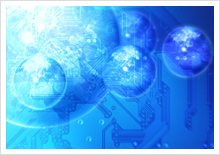 The sales policy of the Division is to use its advanced technological expertise to achieve one-stop production, from raw materials to processing and assembly, and ensure cost reductions and shorter lead times to meet customer needs and requirements.
The Division always remains sensitive to customer needs to turn unique ideas into products that suit the needs of industries.
The Division set up a production base in the Philippines to start providing products to customers there and in Southeast Asia. The Division receives supplies packed with the highest technological achievements in various fields from subcontractor factories in Japan, while promoting globalization through subcontractor factories in Southeast Asia.
Roles of Muraki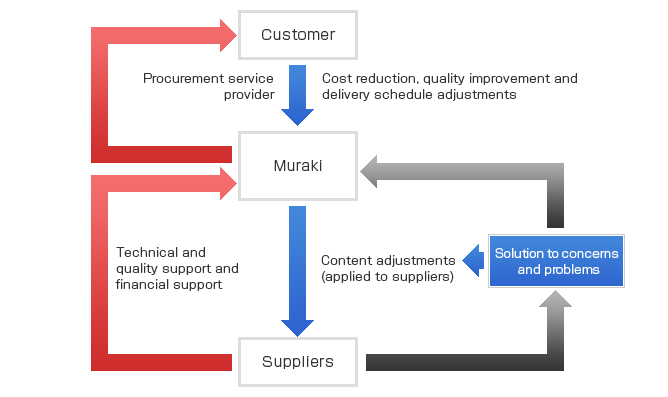 Main clients
Ichinoseki Hirose Electric Co., Ltd.
NEC Personal Products Co., Ltd.
Kitashiba Electric Co., Ltd.
SPC Electronics Co., Ltd.
Seiko Epson Co., Ltd.
Flextronix International Co., Ltd.
Toshiba Corporation
Nagano Keiki Co., Ltd.
Japan Aviation Electronics Industry, Ltd.
NEC Corporation
NIDEC Corporation
NHK Spring Co., Ltd.
Hitachi Automotive Systems, Ltd.
Feather Safety Razor Co., Ltd.
Mitsumi Electric Co., Ltd.
Yazaki Meter Co., Ltd.
Shinkawa, Ltd.
.etc
Sales representation services
1.We carry out sales activities on behalf of overseas suppliers.

At the request of overseas suppliers having business ties with us, we carry out sales activities on their behalf, including public relations of raw materials and parts for the Japanese market.

2.Dealership.

We carry out sales activities as a dealer of unit machinery such as NC lathes.