And the next possibility... Muraki goes forward together with you.
Muraki attempts to progress in new fields as an evolved trading company
with the functions of a manufacturer while supported by its long history as a trading company that imports high-quality clocks and watches and precision components.
This is based on our corporate policies that we develop with the customers.
Muraki's motto is "TOGETHER CREATE".
Muraki hopes that we will move together with suppliers to manufacturers and finally to end users to create the future together.
Machine Tool Div.
Muraki wants to find a product that matches each of the customers.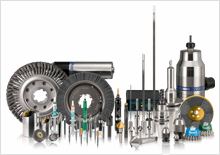 In the early years of the Showa era, the Machine Tools Division of Muraki, with actual experience in the manufacture of small lathes and gear-cutting machines, started by selling small precision lathes manufactured by G. Boley Co. of Germany.
Then, we handled products with excellent product appeal, such as tungsten carbide tools manufactured by Dixi Co. in Switzerland and drill chucks manufactured by Albrecht Co. in Germany to expand the types of products we sell.
Currently, in addition to these products, we handle tools for machines supplied by companies from all over the world, including, of course, Europe and America, such as tungsten carbide tools from Metal Removal Co. of the United States, cutting tools from Ilix Co. of Germany, gun drills from Botek Co. of Germany, and industrial brushes from Osborn Co. of Germany, in addition to NC spot drills from Nine9 Co. of Taiwan to provide them to the industrial fields of automobiles, machine tools, electrical and electronic equipment, heavy industries, and aircraft.
How can we sell products that appeal to our customers?
In this case, dynamic action of the type corresponding to customers is required.
We sell products that match the needs of each customer by creating software based on our expertise in addition to the machine tools as hardware in response to customer requests.
Muraki continuously shares hybrid information on domestic and overseas technology.
Precision Components Div.
Incorporate ideas into an invisible part. This is Muraki's technical ability.
The Precision Components Division started by handling precision machined parts for watches and clocks and now provides precision machined parts, units, and manufacturing equipment to major manufacturers in Japan, such as those for HDD parts, in-vehicle parts, semiconductor manufacturing equipment, and aerospace components utilizing its abundant experience and achievements.
We procure raw materials not only from Japan but also from overseas and use our local operational hubs, such as the Philippine plant (MKP) and the local subsidiaries in Hong Kong and China (MKH, MKK and MKS) to promote the globalization of business.
One of the sales policies of the Precision Components Division is to quickly and appropriately respond to customer needs concerning the procurement of raw materials to machining and assembly using high level technical ability.
Moreover, another one of the policies is to focus on the trustworthy and reliable relationship with customers and equal relations with suppliers while building good relations between people.
We will provide products based on our ideas by identifying customer needs and considering what type of products will match which industries.
Electronic Equipment Div.
Electronic equipment of Muraki is evolved!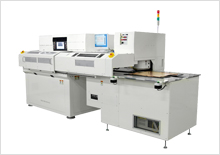 The Electronic Equipment Division of Muraki started activities from the beginning of the PCB industry and has grown up along with the development of the electronics industry in our country.
Currently, the Division manages domestic sales and exports to overseas markets of precision PCB processing machines, such as lay-up machines for X-ray hole-cutters.
Based on technical cooperation with SEIKO TIME CREATION INC. we correspond to higher precision PCBs, and continuously promote the development of new models to satisfy customer needs to acquire high reliability from customers.
Watch & Clock Sales Div.
We will find overseas high-quality watches and clocks to develop a variety of products in response to customer requests.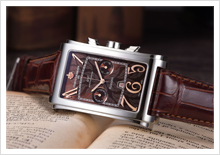 Muraki has imported and sold Swiss-made watches and clocks since the establishment of the company.
Even after more than 100 years in business, we still find reliable overseas high-quality watches and clocks to sell in the Japanese market.
Utilizing the expertise accumulated since our establishment, we sell attractive watch brands.
Cuervo y Sobrinos, Ebel, Perrelet, Festina, Rialto, Hanhart.
We will respond to the requests of our customers by offering a variety of clocks.
Urgos, Kieninger, L'Epée, Hermle.
Muraki has established an after-sales service center to provide maintenance and after-sales service since we want our customers to use the purchased watches and clocks without anxiety.
Watches and clocks provide not only the function for measuring time but also the highest quality from strictly selected raw materials, advanced technology, and performance based on the history and tradition of their brands.
In addition, people wear watches to enjoy the design and the fashion as another aspect of a tool for achieving a sense of fulfillment, delight, and personality.
Jewellery Div.
We will make efforts so that we can respond to customer satisfaction while actually making the best use of our spirit of focusing on manufacturing.
The diamond cutter's brand in England, <Monnickendam>, has provided diamond products to jewelers for the nobility and has a profound relationship with British royal family.
Thanks to you, we have been provided with the customers' earnest support and reliability while the number of shops selling the products exceeded 50.
The attractive points of the <Monnickendam> diamond is its unique brightness called "Luxury white," which reflects its noble beauty.
The company has manufactured high-quality diamonds with "Give a gemstone life" as its motto using unique cutting techniques as a diamond cutter's taken over four generations of direct family.
We will realize the value of gemstones, the importance of the design, and high level cutting technology so that we can achieve customer satisfaction for those who purchase our products under the proposition that we shall make the best use of the spirit of the founder who focuses on manufacturing.