Environmental Management System ISO14001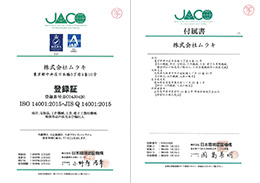 In an effort to protect the global environment, our company has acquired ISO 14001 certification, an internationally accepted standard for environmental management systems, and actively promotes environmental improvement efforts in every area of our business activities. ISO 14001 is an internationally accepted standard that sets out the criteria for an environmental management system (EMS) to improve environmental performance in a continual manner, such as a reduction in environmental burden related to corporate activities, products and services.
| | |
| --- | --- |
| Certification acquired | ISO14001:2015 |
| Registration No. | EC04J0420 |
| Date of registration | January 12, 2005 |
| Organizations certified | Tokyo Head Office, Osaka Branch, Nagoya Branch, Fukuoka Office, Kofu Office |
| Examination agency | Japan Audit and Certification Organization for Environment and Quality |
MKP, INC. is certified as ISO 14001 compliant.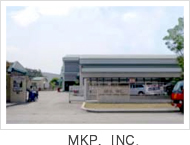 MKP, INC. has also acquired other required certifications.
MKP, INC., our company's precision components manufacturing plant established in 2000 near Manila, acquired ISO 9002, 9001 and 14001 in 2001 and ISO 14001:2004, OHSAS 18001:2007 and ISO 9001:2008 in May 2008.